GM Enhanced OBD II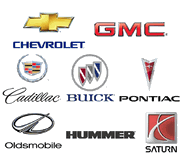 The General Motors Enhanced OBD II software upgrade enables access to manufacturer-specific diagnostic trouble codes using your Dyno-Scan for Windows software. Access trouble codes from ABS, BCM, airbag and more. Read and clear B (body) and C (chassis) diagnostic trouble codes from the enhanced systems and turn off the ABS and airbag dashboard light. Thousands of enhanced DTC definitions are included. The software works on 2000 to 2006 General Motors vehicles: Chevrolet, GMC, Pontiac, Hummer, Oldsmobile, Saturn, Buick and Cadillac (see User Guide for exclusions).

The General Motors Enhanced OBD II software requires an A-303, A-302, A-301, A-101, A-500 or A-501 scan tool kit running version 8.0.3 or higher Dyno-Scan for Windows software. All current Auterra products meet these requirements.

This product is not shipped. A Product Key is emailed that unlocks the General Motors-specific features with the Dyno-Scan for Windows software. After purchase, email the following information to Auterra to receive your new GM Enhanced Product Key:
A copy of your order emailed to you after purchase.
Your existing Dyno-Scan for Windows Product Key.
Your complete name and mailing address.
See the User Guide below for installation instructions.
Learn More About Enhanced OBD II » User Guide »
IN STOCK. Product Key emailed to unlock features. Press the Add to Cart button below to purchase.
Key Features
Key Features
Supports most 2000 to 2006 General Motors vehicles
Some 1996 to 1999 GM vehicles may also work (see User Guide)
Access diagnostic trouble codes from ABS, BCM, airbag and more
Read and clear B (body) and C (chassis) diagnostic trouble codes
Thousands of enhanced diagnostic trouble code definitions

Auterra OBD II Scan Tools, Performance Meters and Data Loggers
Copyright Auterra, LLC All Rights Reserved. | Contact Us | About Us | Home